See Bottom of Page for how to report rare birds and where to find more information!
Spring Migration Updates
-
A few warblers and most swallows are back in town. Mountain Bluebirds and Townsend's Solitaires have been moving through some locations in the Valley and the lower mainland.
Say's Phoebes
Have been observed at Hope Airport and Island 22. March 24th
Possible Tufted Duck (female)
Location: No.5 (Sumas Prairie)
Reported: March 22 (Jamie and Gord Gadsden)
Possible Rock Wren
Location: Light House Park in Point Roberts
Reported: Along the rocks on the beach near where the old light house used to be.
More information as it comes through
White-throated Sparrow
Location: Terra Nova Park, Richmond. On the NE corner of the park on the trail under a feeder near the "natural area"
Reported: March 11 (Monica Nugent)
Townsend's Solitaire
Location: Riverport Rd x Steveston Hwy, Richmond
Reported: March 4
An individual has also been seen near the 33rd Ave entrance to Queen Elizabeth Park
Brant (rare inland)
Location: Sardis Pond
Reported: Feb 26th (Denis Knopp)
Glaucous Gulls
(X2)
Deer Lake (on the East beach in front of the children's playground.) Still present as of March 9.
72nd Street in Delta on Turf farm between Ladner Trunk Road and Boundary Bay Dike. Present most of the winter, but last reported March 9.
Prairie Falcon
Location: Near Brunswick Point (past the turnoff to Westham Island) River Road West at 30b Street.
Seen actively chasing Harriers and Short-eared Owls for voles for at least a month.
Last reported
Feb 27-March 9
Photo: Lynnea Parker
Gyrfalcon
Location: Hastings Park to New Brighton Park. Hunting Rock Pigeons and Eurasian Collared Doves from the Vitarra Grain Buildings around that area.
Reported: Jan-March 9 (Doug Cooper et al.)
TUFTED DUCK
(Male)
Location: Iona Sewage Lagoons (Outer and inner ponds)
Reported: Feb 14-March 9 (Sunny Zhai et al.)
Tufted Duck (Photo: Michelle lamberson)
Townsend's Solitaire
Location: Simon Fraser University Campus, Burnaby Mountain. In the center of campus between the TASC building and the Academic Quadrangle.
Reported: Early Jan- March 3
Another bird was photographed at the UBC Botanical garden on the week of Feb 17th-March 4
Intersex Northern Pintail?
Seen on the east side of Blackie Spit (Crescent Beach) on Feb 9 by Logan Lalonde and Liron Gertsman (photo). Comments welcome!
Mountain Bluebirds (2)
Location: Old Rail West site, Squamish
Reported: Nov 22-Feb 4 (Chris Dale)
WESTERN SCRUB-JAY (Two locations)
Location 1:
Central Maple Ridge (latest on York Street-Feb 3-Roger Craik)
Location 2:
New Westminster: A bird often seen near roving Steller's Jay flock in between 16th and 18th Streets, and Hamilton St and Seventh Avenue
Reported: Latest known was Feb 1 (Wayne Diakow et al.)
Gyrfalcon
Location: Old Dewdney Trunk Road, east of Harris Rd, and just west of the south end of Neaves Rd (Pitt Meadows)
Reported: Jan 17-Feb 4 (Many birders including Michael Sather--photo)
*There is also a Gyrfalcon hanging out around the Vitarra grain buildings north of Hastings Park (near Iron Workers Mermorial Bridge in East Vancouver) as of Feb 5 (Doug Cooper et al.)--possibly the same bird that was present last winter.

Rusty Blackbird
Location: Corner of Chilliwack Central and Prest Rd
Reported: Jan 13 (Gord Gadsden)
Snow Bunting (80-90) High Count
Location: Marion Rd, Sumas Prairie
Reported Jan 5-16 (Henry Wall et al.)
Gyrfalcon
Location: Marion Rd Sumas Prairie
Reported : Jan 3-7 (Wes Aslin)
Harris' Sparrow
Location: Kitchen Rd (Chilliwack) A little north where the Black Phoebe was seen
Reported: Dec 15- Jan 5 (Mike and Sharon Toochin et al.)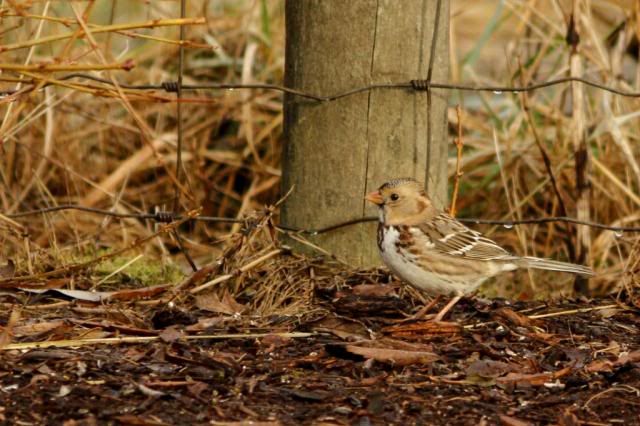 Photo Dave Beeke
Prairie Falcon
Location: North end of Prest Rd (Chilliwack)
Reported: Jan 1, (Denis Knopp et al.)
Bohemian Waxwings (2)
Location: Deboville Slough - "Follow the east dyke, slough on your right, until you get to the first treed area on your right. The crabapple tree is just before a sign prohibiting the carrying or discharging of firearms."
Single bird relocated - Dec 12 (Colin Clasen),
"
700 meters east of the locked gate on the north side"
Reported: Dec 11, David Schutz
Rock Sandpiper
Location: Tsawwassen Ferry Jetty
Reported: Dec 10, associated with Black Turnstones (Mike Tabak)
Semipalmated Plovers (very late record)
Location: Tsawwassen Ferry Jetty
Reported: Dec 7, still present Dec 9, associating with Dunlin (Nigel)
White-tailed Ptarmigan
Location: Between Cypress Mountain ski area and the Lions along the Howe Sound Crest Trail (not an advisable route without winter mountain travel experience and proper gear).
Reported: Dec 7 (Local hiker via Steve Ansell)
Bohemian Waxwings
Location: New Westminster, just outside Hume Park (west side of Kelly St. just before the park)
Reported:
Black-and-White Warbler
Location: Stanley Park - Working large trees bordering the pathway between Lumberman's Arch and the park pavilion
Reported: Dec 7- Present in the same location Dec 12 (Karen Barry, Aaron Gaffney)
Gyrfalcon (dark phase)
Location:

Between Hale and McKechnie Rd. - Pitt Meadows (another sighting two days earlier on Bonson Rd. South, perhaps the same individual)
Reported: Dec 2 (Ken Thomson)
Sora
Location: Colony Farms Regional Park; pond on Port Coquitlam side (access via Shaugnessy Rd.)
Reported: Nov 28 (Danny Tyson)
Mountain Bluebirds (late)
Location: Squamish
Reported: Nov 23 (2 - sighted by Chris Dale)
To report rare birds or sightings of interest in the
Vancouver
area and to submit pictures please email Jeremiah Kennedy at
jeremiah.kennedy@telus.net
or Jess Findlay at
jfindlayphotography@gmail.com
. To report rare birds or sightings of interest for the
Fraser Valley
(East of, and including, Abbotsford) and to submit pictures please email Chris at
cmcdonald21@hotmail.com
.
or the Vancouver RBA phone number (Run by Nature Vancouver):(604) 737-3074If you are interested in taking part in birding discussions, and are looking for other birding information for the Vancouver area, please consider joining the VANBCbirds group, at http://tech.groups.yahoo.com/group/vanbcbirds/ and for discussions on birds from the Upper Fraser Valley click Here